that's a wrap! – week of October 8th
15Oct12
Generali Ladies Linz
Women's Singles – (1) Victoria Azarenka (BLR) d. (5) Julia Goerges (GER) 63 64
World No. 1 Victoria Azarenka continued her post-US Open hot streak as she bagged her second title in as many weeks in Linz, dropping only 18 games en route to the trophy. The Belarusian is 13-0 and has not dropped a set since her three-set loss to Serena Williams in the final of the US Open; both women are tied with six titles each in 2012 to lead the WTA.
"I'm glad I stayed in the moment," Azarenka said. "I did the right things at that moment to finish the match and I'm very happy I managed to win today..I was coming to Linz for the first time and everywhere you go you try to win, and I'm really happy I could go all the way through this tournament. I'm happy to end the week with such a beautiful trophy and a smile on my face."
Azarenka started off each of her matches in Linz with a break of serve, and this final would be no different. She seemed poised for an easy victory as she built was appeared to be an insurmountable 63 50 lead, but Goerges put the pressure on as her oft-erratic groundstrokes found their mark late in the second set. Goerges nearly clawed all the way back, coming within two points of leveling the second at 5-5, but Azarenka proved too strong and managed to seal the win in the end.
Goerges also contested the doubles final as the second seeded team with Barbora Zahlavova Strycova, but that didn't go her way either as they fell to No.1 seeds Anna-Lena Groenefeld and Kveta Peschke 63 64.
HP Open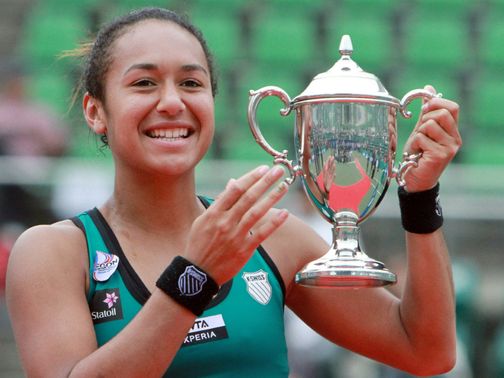 Women's Singles – Heather Watson (GBR) d. Kai-Chen Chang (TPE) 75 57 76(4)
For all the talk of Laura Robson's rise through the rankings late in 2012, it was Heather Watson who became the first British woman in 24 years  to win a WTA singles title when she triumphed in Osaka on Sunday. In a battle of first-time, unseeded finalists, it was Watson who saved four match points and came out on top in a marathon, back-and-forth battle.
"I was in the changing room afterwards, changing my clothes, and I thought to myself, 'Did I really win?' So it's just starting to settle in," Watson said. "I've worked so hard for this moment my whole career – that's why I practiced so hard, ran all those miles and lifted all those weights, for moments like this.
The match was categorized by numerous swings in momentum; it appeared as though Chang would strike first as she served for the opening set at *54, but it was not to be. Then, Watson served for a straight-sets win at *53 in the second, but Chang saved match point and managed to fight back. Chang also put herself in a winning position late in the match as she built a *54 lead and had four match points, but it was to be Watson's day in the end. Both players won 129 points, but it was Watson who came through at the most important times.
Watson couldn't pull off the double in Osaka, as she and Kimiko Date-Krumm fell to top-seeded Americans Raquel Kops-Jones and Abigail Spears 61 64.
Shanghai Rolex Masters
Men's Singles – (2) Novak Djokovic (SRB) d. (3) Andy Murray (GBR) 57 76(11) 63
Novak Djokovic saved five match points to defeat Andy Murray in a three hour, 21 minute contest in Shanghai on Sunday. Since losing to Murray in the US Open final, the 25-year-old Djokovic has compiled a perfect 10-0 record, winning back-to-back titles in Beijing (d. Tsonga) and Shanghai. Djokovic clinched his seventh different ATP World Tour Masters 1000 title and 13th overall.
"It's difficult to judge who was better because it was so close throughout the whole match," said Djokovic. "We had so many rallies in three and a half hours; for a best-of-three set match it is a very long time. Could have easily gone the other way. He was five match points up. When I faced those match points, I tried to focus on each individually. He was so close to the victory that I cannot say I was the better player."
The first set featured seven breaks of serve, but Murray gained the upper hand in the 11th game before finally closing out the opening set. The Scot seemed poised for victory as he fashioned a break midway through the second set and led *54, 30-0. Murray had his first match point at 40/30, but Djokovic saved it with a forehand winner, before erros from Murray gifted the break back. Murray had four more match points at 6-4, 8-7 and 10-9 in the tiebreak before Djokovic converted his fourth set point with a forehand winner to send the match into the final set. Djokovic got the break in the seventh game of the final set, and while Murray saved two match points down *35, he could not save a third as Djokovic finally closed out the match.
Fourth seeds Leander Paes and Radek Stepanek captured their third title of the season as they defeated seventh seeds Mahesh Bhupathi and Rohan Bopanna 67(7) 63 [10-5].
Filed under: Andy Murray, ATP, Heather Watson, Julia Goerges, Kai-Chen Chang, Novak Djokovic, Trophy Case, Victoria Azarenka, WTA
|
Leave a

Comment
---
---
Recent Posts

Archives

Categories

Blogroll